Our Mission
EHQS Consulting, LLC (EHQS) has a mission to provide clients with high quality, cost effective, and responsive solutions to environmental health, quality and safety issues.  Recognized for integrity and expertise in environmental fields providing clients with quality work product, attention to detail, rapid response, and creative solutions for difficult technical problems.
EHQS is committed to ongoing professional training to keep pace with current industry trends, regulatory changes, and certifications.
---
Qualifications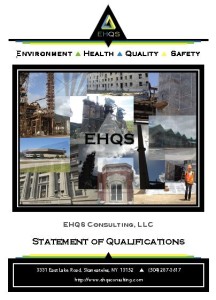 EHQS is a woman owned small business.  The business began operations in November of 2014 by Ms. Tammy Chancey who has 11 years of experience in the environmental health, quality and safety field.
EHQS is qualified to provide industrial hygiene, environmental, and safety consulting services to a wide range of clients including: industrial facilities, hospitals, commercial buildings, airports, restaurants and hotels, schools and universities, and various residential properties.
Professional services include but are not limited to asbestos, lead, and mold inspections, indoor air quality assessments, safety audits and training.
EHQS has acquired knowledge of federal and state regulations and is certified and licensed to provide environmental consulting services in the Midwest, Northeast and Southeast states.
---
Dedication
EHQS is dedicated to protecting the interests and confidentiality of each and every client.  EHQS takes pride in business relationships and has a reputation for responsible project management, professionalism, and integrity combined with a genuine concern with its client's interests.
EHQS has a commitment to professional project assessment, planning, and management of environmental and safety projects, by paying attention to detail, providing timely response, and comprehensive client management and reporting.
Meeting your environmental and safety needs by working together with you as a team is EHQS's goal.